Dealing with Your Emotions in a Sugar Daddy Relationship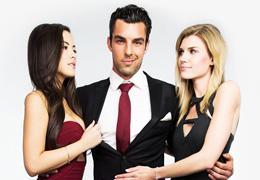 Sugar daddy relationships are very different from traditional ones. Rather than a serious, monogamous relationship that could ultimately end in marriage, you are essentially entering into an agreement with an older man who in most cases already has a wife. If you are seriously considering a sugar relationship, you need to understand how to deal with your emotions if you want it to be successful.
Know Your Role
The key to a successful sugar relationship is that you know and understand your role. Generally, your sugar daddy has you on stand by for those times when he is available to see you. Instead of you calling and wanting to talk, you will likely have to wait until he has the time free for you and calls. If you've never been in this kind of relationship, it can be quite frustrating. Your role is to be available to provide the companionship that your sugar daddy pays you to provide. As a result, you have no control over his time, or when he has to see you.
Check Your Feelings
Take a moment to consider how you feel about being the other woman. If you're OK with that, you just might find a sugar daddy relationship a bit easier. However, you also have to understand that most sugar daddies have no intentions of leaving their wives. You are there as a distraction, or when his wife isn't available. While it is fine if you start to care about your sugar daddy, you have to make sure you keep those feelings in check - you can't try to turn the relationship into something more than it is. While it is true that there have been some sugar babies who became wives, that isn't the norm, and isn't something you should expect out of the relationship.
There's No Room for Jealousy
If you are a sugar baby, you have to understand that you have no right to become jealous of the time that your sugar daddy spends with his wife. The two of you have an arrangement, and that is often the extent of the relationship. Your sugar daddy will come to you when he has the time. If he has to blow off plans with you, you have to take it in stride and just wait until the next time the two of you can meet.
Being a sugar baby can be rewarding, as long as you understand how to deal with the emotions of having a sugar daddy.