SugarDaddySite Review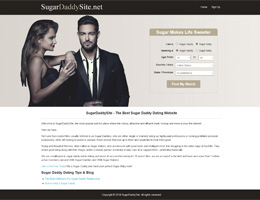 Star Ratings of SugarDaddySite:
Chance of getting a date
Protect privacy
Features
Customer service
Value for money
SugarDaddySite is a dedicated online dating platform that caters to needs of two categories of people - the Rich & Successful Men, usually referred to as Sugar Daddies, and the Young & Beautiful Women, often called as Sugar Babies. Like many of its competitors, the site aims to facilitate the mutual-beneficial relationship and try to clear all intangible barriers between the two. However, unlike others, the site has gone the extra mile to satisfy all its registered users through winning factors as listed below.
User Base
With more than one and half decade successful running, the site boasts of a huge active user base that roughly consists of 300k sugar daddies and 700k sugar babies. This sets SugarDaddySite apart from other sugar daddy sites because having more active users means a lot more potential matches and less time wasted on searching.
Pricing
To be honest, SugarDaddySite is not a very cheap sugar daddy site in the field. But let's face it, not every man can call himself a Sugar Daddy randomly. And those who did better put the money where their mouth is. Besides, the site does offer considerable and reasonable subscription packages that users may feel free to choose from.
For 1 month, subscription fee is $50;
For 3 months, subscription fee is $90;
For 6 months, subscription fee is $144.
Furthermore, the site has its own APP that is easily available at both Apple Store and Google Play. Only that the subscription fee is a little different. And one heads-up, after the first membership purchasing, you need to go to your "Subscription status" to manually turn off the auto-renewal option whenever you want to terminate the service.
Top Features
SugarDaddySite.net offers a bunch of splendid features that enhance user experience and improve efficiency.
Instant Messaging & Private Live Chat: We all know the importance of instant communication, especially in today's world, and for sugar daddies that always have a tight schedule and hectic lifestyle. To send an email or to initiate a private live chat with anyone that catches your attention anytime will definitely leave you no regrets.
First Date Gift: As you cannot judge a book by its cover, likewise, you cannot tell if a person fits your type just by browsing the photos. SugarDaddySite.net is giving all sugar daddies the chance to propose a 'First Date Gift' to a sugar baby to see whether she is 'biting the bait'. And there is nothing to be ashamed of when it comes to sugar relationship, both parties take what they want and all get satisfied.
Certified Sugar Daddies / Babies: One of the biggest headaches for all sugar daddy sites is the fight with fake users or scammers. No one wants to get deceived neither emotionally nor financially. To avoid all these, the site has introduced verification system, which encourages all genuine users to verify their age & photo (especially for sugar babies), income level (especially for sugar daddies), and other info like location, occupation, education level etc. Through verification, users show their realness and sincereness without any worries, since the site guarantees not to disclose, sell or rent any personal, identifiable information to any third party. And all information provided is strictly kept safe and confidential.
Final Verdict
SugarDaddySite creates a secure and superb environment where sugar daddies and sugar babies can meet, hookup and more without any pressure. Either you are a sugar daddy, that takes up highly-paid professions or runs profitable personal businesses while looking to assist or pamper women admirers, or you are a sugar baby, who are blessed with good appearance, but get stuck in hard life stages, still desire finer things, prefer a mature relationship partner or mentor for financially support, you have come to the right place. As its site slogan goes, 'Sugar makes life sweeter', if the sugar relationship feels right for you, then you definitely should give it a try.
Click Here to Visit SugarDaddySite.net » or « Back to Homepage