SugarDaddie Review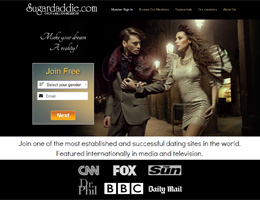 Star Ratings of SugarDaddie:
Chance of getting a date
Protect privacy
Features
Customer service
Value for money
SugarDaddie was created in 2002. It is considered as one of the pioneers in sugar daddy dating segment. The site claims that it has a database of thousands of successful men and beautiful women who accept that ambition and a successful lifestyle are traits of attraction, and each profile is reviewed by a member of staff to ensure that a standard level of quality is maintained. For anyone who is ready and up to a Sugar-daddy relationship, it's one of the mature dating sites recognized by the global media and worthy to give it a try.
Pricing Policy:
It is free to obtain the basic membership at the site. However, you shall not get access to the complete set of features available on the website, for which you will have to upgrade. Premium membership will fill that void too. The subscription charges are stated as under:
1 Month - $29.99
2 Months - $39.99
3 Months - $59.99
6 Months - $109.99
12 Months - $169.99
Showcase of Standard Features:
Exciting online forums where site users gather to chat with each other
Free to register a dating profile, search members and view profiles
See who's viewed your profile
Add members to your favorites or blocked member list
Send and receive messages
Use in-site email or instant messenger to contact other members
Search by Country / Ethnicity / Height / Age / Location / Photos Only / etc.
Save your search for next time use
See last logged in time of other members
Extensive FAQs and support
Special Features for Paid Members:
Upgrading to full membership on this site would allow you to access complete profiles of others users thereby giving you an opportunity to know them better prior to striking a conversation with them. While creating a profile is a tedious affair, it is nowhere problematic. Once you're done with this step, your profile is submitted for approval. It is worth stating that SugarDaddie.com employs a rigorous approval process in order to ward off scammers and fake users.
Overview:
Our first impression of the website was certainly positive. The site has a lot of sugar daddies and sugar babies who are interested in developing a mutually beneficial relationship with other members. The popularity as well as the membership base of this site can rival some of the biggest websites in the wealthy dating segment. However, if you are looking for long term relationships, then this website isn't for you.
Becoming a registered user of this site wouldn't cost you a single penny. Although, it would allow you to create a detailed profile, add pictures, search for other compatible partners, check out blogs and access the section on dating tips, it would restrict standard users from initiating a conversation with other users.The team behind this site carefully scrutinizes each user profile and rejects those that fail to meet the guidelines laid out by the website. It is due to these reasons that make this website stand out from the crowd. Getting in touch with other members is a breeze and you wouldn't find any issues sending a message to a person whom you're interested in. The instant messaging options and the flawless search algorithms are like an icing on the cake.
Strengths:
This site has also been featured on some of the leading media journals, magazines and TV shows in the United States and the United Kingdom. The design of this site is slick, contemporary and speaks of unmatched quality. Moreover, the spacious layout of this site also makes all the features easily accessible. This allows registered users to get the most out of this site without any kind of hassles.
In fact, the ultra - modern look and feel of this site is a benchmark in the sugar daddy dating segment, and gives its dating service an identity of its own.
Weaknesses:
The major drawback of the site is the lack of Income Verification process, which simply means users can input any amount of income they want, and will surely provide a loophole for scammers and fraudsters and therefore put sincere users' online security at risk. Next disadvantage is the site limits users to searching only within their own geographic region, not elsewhere. And one more flaw, the site only allows opposite-sex relationships. For those who are into same-sex partnerships, obviously, this site is not the one for you.
Final Verdict:
SugarDaddie is easy to use and scores high on functionality. With premium membership starting from less than $ 30 for 30 days, this website is slightly affordable in comparison to some of the other services in this segment. With over 10 years of experience in this segment, it is easy to see what pulls so many users to this site.