Sugar Daddy Dating Attracts Millions of Students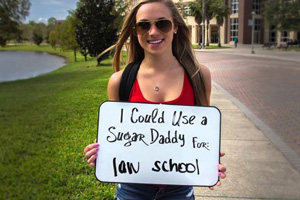 Sugar daddy sugar baby dating is attracting millions of university and other students who are struggling with the financial costs of paying for their studies - yet, at the same, time wanting to live a reasonably comfortable life with enough money for daily living expenses etc.
The solution for many, especially female students, is to turn to some of the popular sugar daddy dating sites and find an older, wealthy man to help alleviate their financial burden - in return for sharing companionship, friendship and, more than likely, their sugar daddy's bed!
Whilst sexual activity is not always part of sugar daddy sugar baby relationship, according to almost all sugar babies who were interviewed for a recent study into this phenomenon, it does play a significant part of such relationships.
Many observers question whether such compensated dating is, therefore, just thinly veiled prostitution, whether it is legal and, more importantly, if it is safe. However, according to Esther H. one student who is a sugar baby to a wealthy sugar daddy, being involved in such a relationship is not all about sex - and, yes, it is relatively safe.
Esther said that it is possible to carefully select just which sugar daddy you wish to date before actually meeting him and have the opportunity to chat online and get to know your benefactor before taking the plunge and meeting up. Plus, by using a reputable sugar daddy sugar baby dating site, she found a comfort level that the sugar daddy had been screened by the site after providing his key personal details. In addition, the terms of any arrangement she has with any of her sugar daddies are agreed in advance and boundaries set and ground rules established.
Indeed, such is the demand from sugar daddies for young female students to be their companions, in order to encourage more female students to use their site, Seeking Arrangement, one of the well-known sites catering to sugar daddies, at certain times allows sugar babies to enrol for free - whereas sugar daddies have to pay anywhere up to $180 to join and be able to make contact with a potential sugar baby.
According to Melanie Wilson, another student in her final year of study at a well-known university, the cost of tuition fees, of daily expenses and the cost of living either on campus or close to universities which are in major cities means that, if most students don't secure a well-paid part time job, then they will be finishing their education with large debts to pay off.
However, part-time well-paid jobs for students are rare and seeking and securing a sugar daddy is, for many female students, seen as a far better alternative. Being a sugar baby means the women don't need to work more than a few hours each week and get relatively well paid for companionship and whatever else they wish to indulge in. There is also the chance that they may find a rich, older man who will not only provide financial assistance for their studies but lavish them with gifts, pay for overseas holidays and keep them in a lifestyle they aspire to (as well as helping them pay off their debts!) - in some cases even for the longer term after they have graduated.
In any event, whatever opinion you aver about young women being a sugar baby, there's no denying that sugar daddy and sugar baby dating sites and the means for the protagonists to easily connect with each other on the internet are definitely not going to suddenly disappear in the short term!