MissTravel Review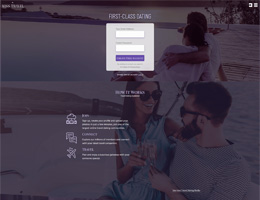 Star Ratings of MissTravel:
Chance of getting a date
Protect privacy
Features
Customer service
Value for money
Different than other typical dating websites, MissTravel aims to bring glamours and wealthy older guys together with hot and sexy younger sugar babies who are willing to travel around the world. Founded by Bradon Wade, who is known to be a veteran in the dating realm, the site promotes the concept that Beautiful people do not need money to travel. It is a perfect place for rich guys to find a beautiful sugar babe to take along on their travels, and for gorgeous ladies who want to enjoy a luxurious travelling experience for free.
Members of the Site
The website has more than 30,000 registered users from USA alone, and majority of its female users are below the age of 34. Its population is almost equally distributed to both sex, and it's a very welcoming and robust community attracts users from other places around the globe.
Signing Up
To get started, you have to provide a valid email address, through which you will receive an activation link; a proper username that will show on your profile; and some necessary information about yourself. The whole signing up process won't take long, but it's important that you keep everything real, even verified, to increase the possibility of attracting more people.
Profile Quality
The profile section maintains a balance between general information and personal thoughts about yourself. It's pretty fundamental but very informative. Almost all members have a complete and rich-content profile, where they write fun facts about themselves, their preferred travel lifestyles and even future travel plans. So, whenever you find anyone interesting, you can easily drop them a message and discuss about their plans. Photo uploading has no maximum number limit, and you have the choice to make your uploaded photos invisible or only show them to certain people.
Features
MissTravel does not have too many fancy features, but what it offers are absolutely relevant, friendly and useful to its users.
Create A Trip: You are allowed to post a public upcoming trip plan for other people to view and see if they share the same interest. To create a trip, you have to mention your destination, itinerary details and most crucially - who's paying for the trip. The posted trip plan has to be vetted and approved by site administrator before it gets online. And you are always advised to use tags or short descriptions to enhance its visibility to a larger group of viewers.
Advanced Search: There is no matching system in the site. So, you have to spend some time and efforts in finding your potential travel buddy manually. However, the advanced search tool comes with lots of different filters. You can choose to specify the location of the people or the trip; you can also select those who show up on your search results.
Paying members: Statistics show that more than 95% of the travel invitations on the site are sent from male users. And one of the distinct features is the limitation that male users face to access site chat & messaging features. On the contrary, female users are given the privilege to use the entire site feature which includes messaging - A similar feel of a sugar daddy dating site.
Costs & Prices
MissTravel's premium services includes: Send/Read messages, Anonymous Browsing and Highlighted Posted Trips etc. And it offers several package plans listed as follows:
1 Month - $59.99
3 Months - $164.97
6 Months - $299.94
Pros
Ingenious concept
Simple design and easy to navigate
Free membership for girls
Cons
Subscription fee not cheap
Stigma of escort service
Conclusion
MissTravel provides those affluent travelers with chances to find their travel buddy or soulmate through a unique and reliable professional service portal. It targets two group of people: the rich and the beautiful; where the rich can seek for a beautiful companion for a romantic exotic getaway. It is equipped with essential features to make the searching and fining process hassle-free. So, if seeking someone to travel with and expecting something more out of the tour have been your aspiration and dream, then you'd better check this site out!