RichMeetBeautiful Review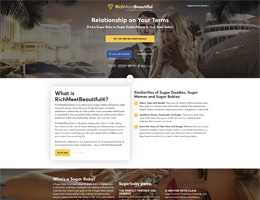 Star Ratings of RichMeetBeautiful:
Chance of getting a date
Protect privacy
Features
Customer service
Value for money
RichMeetBeautiful calls itself the number one sugar daddy and sugar baby dating service provider, in spite of the fact that several stronger competitors standing side by side in this hyper-competitive segment. The successful transition of sugar dating from physical world into the cyber space lies in the convenience and anonymity that a virtual online platform can provide for people who have the needs. But can RichMeetBeautiful live up to its claims? Read on and find out!
The Registration
Registering with RichMeetBeautiful is safe, fast, and most importantly, can be anonymous. You may choose to log in with your Facebook account with the site's promise of never posting anything on your behalf. Or you may also go for the traditional signing up process, which is no big difference from other typical dating websites, except that females can be identified as Sugar Momma while males can also be Sugar Babies as per their financial status as well as emotional desire. Straight after that, Sugar Daddies will be asked about net worth or annual salary details; and Sugar Babies will get a question about what kind of lifestyle they are looking for. To complete the registration, you also need to fill in the Captcha to prove you are not a robot, and go to your valid email address to verify your account.
Top Features
Anonymnizer Tools: To better protect user's privacy, RichMeetBeautiful employs this ingenious ANONYMIZER tools which provide you with a set of tools like Blur, Mask, Rotate and Crop to cover your face and display the effect of Masquerade. Furthermore, photo without face is also permitted.
Verification: To prove to other users that you are a real person, RichMeetBeautiful provides four simple ways to get yourself verified, that is through Facebook, Mobile Code, Google+ and Windows Live. Verification is beneficial for both users themselves and others. It's the best way for the site to fight against scams as well.
Search Globally: Though RichMeetBeautiful is a European-based company, it has a super ambitious coverage of 33 countries till now with many different portals in various languages, which of course, presents its users wider choices, ranging from Scandinavia, East Europe, USA to Globally. If you are a Sugar Daddy or Sugar Momma who has the reasons or budget to travel around the world frequently, then it's the perfect feature for you to enhance your possibilities of getting an exotic sugar relationship.
Private Keys: This is another brilliant design that RichMeetBeautiful uses for those who value anonymity and privacy during online dating. Users can upload private photos and only those who requested and being granted permissions can get access to those photos.
Costs & Benefits
RichMeetBeautiful offers free membership for Sugar Baby (or Toy Boys), but Sugar Daddy / Momma has to pay to enjoy all premium services. There are several packages to choose from, and all prices are listed in Euros instead of US dollars.
€39.99/mo for 1 month package
€29.99/mo for 3-month package, save upto 25%
€19.99/mo for 6-month package, save upto 50% (MOST POPULAR, with 500 free credits)
€14.99/mo for 12-month package, save upto 63% (with 1000 free credits)
The Benefits of premium membership includes followings:
Send & read messages
View visits to your profile
View flirts & gifts sent by others
Send virtual gifts (e.g. rose, kiss, champagne, teddy bear, handcuff, diamond ring etc.)
Final Verdict
RichMeetBeautiful may not possess as large user base as it advertises, but still it is a responsible site that lays emphasis on users' privacy protection. Moreover, taking advantage of internet's pervasiveness and extensiveness, it expands its service to real sense of world level. RichMeetBeautiful encourages its users to be straightforward about what they want from this sugar-type of mutual beneficial relationship, either for money or honey; no nonsense, no beating around the bush etc. The loose control of sugar babies or toy boys to access most site features is a definite plus, which will undoubtedly enrich its female user numbers. High Sugar Baby Ratio, No Games, Youthful Fun and Protegees are key values that RichMeetBeautiful is based upon. With the open and honest environment the site has created, you can feel free to start a sugar relationship on your own terms anytime!
Click Here to Visit RichMeetBeautiful.com » or « Back to Homepage