How To Spot a Fake Sugar Daddy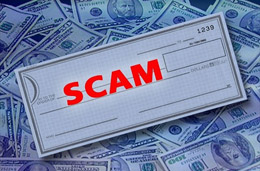 Even if you are using one of the best sugar daddy websites around, chances are you will come across some fakers, the ones that are up to no good, the bullshit artists. All these guys do is vomit lies out of every orifice of theirs like a drunk frat boy. When you spot a filthy liar while looking for a sugar daddy, there is only one thing you can do. Run in the other direction. No wait… we didn't mean to actually run, you can sit down now. To make you lives a lot easier we have compiled a list of what to look out for when looking for a sugar daddy.
Does He Only Want Sex
If you find that a sugar daddy you are in contact with online only wants to talk about sex, then he's most probably looking for an escort instead of a genuine companion. These are the sugar daddies who pull off a disappearing act once they've gotten what they really wanted from you. It is advised for sugar babies not to entertain such people and just block them if they start to make you feel uncomfortable.
Is He Desperate to Meet You
Sure, a sugar daddy could want to meet up with you the same day you meet. Flattering, but while there is nothing wrong with not being able to keep his excitement intact, this kind of attitude is generally not expected of a sugar daddy. So, if the sugar daddy you are chatting with starts to show an uncanny interest in wanting to meet you immediately, there is a good chance that there is something wrong.
His Profile doesn't Fit the Image
Needless to say, all sugar daddies are loaded, whether they're on the best sugar daddy websites or not, that's actually a given. In fact, that's the reason why they are looking for a sugar baby in the first place. So, being rich means that your sugar daddy is expected to own an expensive wardrobe with the usual Armani and Gucci suits, and not clothing from America Eagle Outfitters or Gitman Bros.
He Asks for Explicit Photographs
If the potential sugar daddy ends up asking for naked pictures of you, especially before you meet face to face, it should be obvious that he's really not interested in a genuine relationship with a sugar baby. And just because sex is a part of being in a sugar relationship does not mean that you should readily give explicit pictures of yourself to a sugar daddy you haven't even met yet.
Ending Note
While most sugar daddies that you will find on sugar daddy websites will genuinely be looking for a companion. There will be times when you will find those who are just looking for opportunities to scam an unsuspecting sugar baby. One of the major reasons of using the best sugar daddy websites is that you can get to interact with honest sugar daddies who are looking for a genuine companion, but sugar babies should still exercise caution by following the aforementioned tips.