SugarDaddyToday Review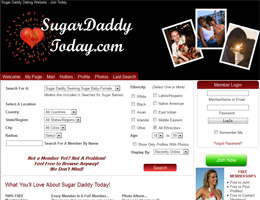 Star Ratings of SugarDaddyToday:
Chance of getting a date
Protect privacy
Features
Customer service
Value for money
SugarDaddyToday came online in 2007 and was designed to be user-friendly and easy to navigate. Now the site has been amongst the most popular websites in the sugar daddy dating domain and boasts of a healthy membership base and a large number of active users. It uses 100% FREE membership to attract users, but in fact it only provides a 3-days free membership and after that you need to pay $7 monthly to carry on.
Pricing Policy:
A 3-day 100% FREE membership
$7 / month gold membership charge after 3 days' trial
Showcase of Site Features:
Photo Album - Post up to 10 pictures
Local Search - Search for members by city
Save Searches - Name and save search criteria. Do your favorite searches with just one click
Last Search Saved - Just click the Last Search tab to do your last search-even if it was from the last time logged in
Instantly Refresh Current Search - Just one click to instantly refresh your current search. You don't even have to be logged in
Hot Lists And Reverse Hot Lists - Keep your own list of the Members you are most interested in. And see who has put you on their Hot List
Category Blocker - Block all messages from members in the categories you select
Country Blocker - Block all messages from members in the countries you select
Members Can Contact You Directly - If you choose to, you can post your email address, phone number, text number, etc.
New Message Alerts - If you like, the site will send an email notification when you have new messages
Strengths:
The site is easy available to every interested user. A 3-day free trial and as low as $ 7 / month membership fee surely clears all the barriers for any sugar-relationship lovers. Another positive feature is Sugar Daddy Today allows exchange of offsite information among its users. Unlike any other dating websites, it will not delete or screen personal contact including phone number, email address, Facebook, Skype etc.
Weaknesses:
Like a double-edged sword, low price also means poor quality and cheap services most of the time. The site has neither blogs, nor forums, not even private chatting. Worse still, the privacy options are very limited, which may pose a potential threat to your safe and enjoyable online dating experience.
Final Verdict:
SugarDaddyToday offers 3 days' 100% free membership for all members. In these 3 days, users can access all features on the site. And after that, users need to pay $7 per month to continue their membership. You need not expect too many options at such a small fee. Though all basic features, such as email and search criteria are available. Moreover, the features are easy to use and even novice users wouldn't face any issues. In the communication department, there are not many options to choose from as users only have access to website's email system.
In a word, SugarDaddyToday is very affordable as a sugar daddy dating site. However, It offers only basic features of a dating site. If you are considering value for money, Sugar Daddy Today is your best choice.
Click Here to Visit SugarDaddyToday.com » or « Back to Homepage