SugarSugar Review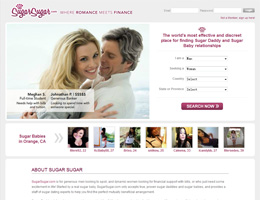 Star Ratings of SugarSugar:
Chance of getting a date
Protect privacy
Features
Customer service
Value for money
SugarSugar is a place where affluent generous men looking for someone to spoil, while dynamic gorgeous women looking for financial support or just some excitement in life! Started by a real sugar baby, SugarSugar only accepts true proven sugar daddies and sugar babies, and provides online sugar dating experts to help you find the perfect mutually beneficial arrangement. Besides, the site declares women outnumber men by 8-to-1 here, which will absolutely boost your chance in love!
Pricing Policy:
You can join SugarSugar for free and surf around the site for free as part of your trial membership. In order to access to all features and be able to contact other users on the site, you must upgrade your membership to premium membership:
Silver: $49.95 (300 tokens)
Gold: $79.95 (100 tokens)
Platinum: $99.95 (1,000 tokens)
Payment Method: The site only accepts credit cards.
Showcase of General Features:
Free to create a profile and add photos to start connecting with other usersQuick search by Age / Location / Photo only
Advanced search by Ethnicity / Height / Annual Income / Education / etc.
Send emails and chat with other members
Paid sugar daddy can check sugar babies' private photos
Sugar baby and paid sugar daddy can view profiles without leaving a trace
See who has viewed your profile or put you on their favorite list
Keep a favorite list and a blocked list to manage your interaction with users of the site
Check out the SugarSugar blog for the latest site news and user opinions
FAQs and support for all users
Special & Amazing Features:
You may earn Sugar Points through your all kinds of activities on the site, including sending others messages, logging into the site etc.
The site has a SugarShop where you can literally cash your earned Sugar Points into some gift cards of famous brands like Apple, Coach and many others.
There's also a "token" payment system involved, which means instead of having to pay a monthly flat fee for site membership (as with most subscription sites in this category), users can spend their tokens as they wish, meaning their money will, more often than not, go further.
Overview:
Without any vague description about favor-exchanging type of sugar relationship, SugarSugar.com directly ask for its men to be rich and women to be young.
In addition to usual registration questionnaires like age, height, blood type, hobby, location and education, SugarSugar demands sugar babies' wish list: rent of housing, gifts, tuition fee, car expenses, allowance, or something more specific. In return, sugar daddies must disclose their net worth. And the site system will generate an equivalent dollar sign, like 5 million US dollars would most probably be $$$.
As its one tag line goes "Merging generous sugar daddies with beautiful sugar babies," the site aims to bring "men looking to spoil, and dynamic women looking for financial support with bills, or who just need some excitement in life" together. Various factors can be taken into consideration when a sugar baby tries to search a sugar daddy, while obviously, the dollar sign matching rank of each sugar daddy will play an vital part in choosing the most suitable one.
Strengths:
The site is totally free to all sugar babies, whereas sugar daddies will have to pay to enjoy the premium functions. Two advantages may come along: On one hand, it will allure endless stream of sugar babies; on the other hand, all sugar daddies would jump at the chance to prove their authenticity, of course, by upgrading to one of those paid memberships. After all, that's the key to show whether you are a true sugar daddy, and to use to site to the full.
Weaknesses:
Despite of all the fantastic features, the only problem, as per many users on the site, seems to be insufficient number of listed sugar daddies. Maybe it's because of the colossal number of sugar babies that dwarfs that of sugar daddies on the site. And the existing sugar daddies cannot meet the ever-growing needs from sugar babies.
Final Verdict:
Sugar Sugar, among all the sugar-relationship providers, is an awesome platform for all sugar babies, who don't need to worry about the issue of payment. While, for sugar daddies, they are faced with more than one options -- to be a standard member with all limitation to use the site, or to upgrade to one of those paying premium memberships with a total access. The site has a jaw-dropping rate between women and men in 8:1.While SugarSugar's membership base isn't quite as large as that of other sites we have reviewed, its features impress us. So we still recommend you to have a try.